For Legislators
Safe, Cost-Effective: CRNAs are the Access-to-Care Answer
Certified Registered Nurse Anesthetists (CRNAs) are advanced practice registered nurses (APRNs) who are the primary providers of anesthesia care throughout North Carolina. As anesthesia experts, CRNAs deliver high-quality anesthesia care in every type of healthcare facility and for every type of procedure that requires anesthesia services, including
surgery

labor and delivery

trauma stabilization

pain management
In rural and other medically underserved counties, CRNAs are often the sole anesthesia professionals serving their communities.
During the COVID-19 pandemic, CRNAs across the United States and North Carolina have been a fixture on the frontlines of patient care. Covered head to toe in personal protective equipment (PPE), they have cared for countless patients stricken with the virus by
• managing airways
• operating ventilators
• overseeing intensive care units
• serving wherever they are needed
Across North Carolina, more than 3,400 Certified Registered Nurse Anesthetists (CRNAs) and student nurse anesthetists use their critical care nursing background and graduate-level anesthesia education and training to provide more than 2 million anesthetics each year to patients across the state. Patients who receive their anesthesia from a CRNA can rest assured they are in the care of a provider who will be at their side and on their side throughout their procedure: Every breath, every heartbeat, every second.
NC Anesthesia by the Numbers
There are more than 3,400 licensed CRNAs in North Carolina.

CRNAs provide anesthesia in all of North Carolina's counties that have anesthesia services; there are no anesthesiologist-only counties.
Research Confirms CRNA Safety and Cost-Effectiveness
According to the National Academy of Medicine, anesthesia is one of the safest healthcare experiences a patient can undergo. All significant anesthesia-related research published since 2000 has confirmed the safety of anesthesia care delivered by CRNAs, including the following landmark studies:
Based on the research, patients who undergo surgical and other procedures in hospitals and ambulatory surgery centers in CRNA-only counties can rest assured that they will receive the safest, most cost-effective anesthesia care available. 
Anesthesia Safety and Cost-Effectiveness Research
Since 2000, every scientific research study on anesthesia safety and cost-effectiveness published in scholarly, peer-reviewed professional journals has confirmed the quality of care and cost-efficiency of Certified Registered Nurse Anesthetists (CRNAs). Following is a list of the landmark studies that have been conducted. 
MEDICAL CARE (2016)
Scope of Practice Laws and Anesthesia Complications: No Measurable Impact of Certified Registered Nurse Anesthetist Expanded Scope of Practice on Anesthesia-related Complications
The research results suggest that there is virtually no evidence that complication rates differ based on anesthesia provider scope of practice or anesthesia delivery model. 
NURSING ECONOMIC$ (2010; updated 2016)
Cost Effectiveness Analysis of Anesthesia Providers
The research results show that the CRNA-only anesthesia delivery model is by far the most cost-effective model, and equally safe. Additionally, the researchers confirmed that CRNAs are significantly less costly to educate and train than anesthesiologists. 
JOURNAL FOR HEALTHCARE QUALITY (2015)
Complication Rates for Fluoroscopic Guided Interlaminar Lumbar Epidural Steroid Injections Performed by Certified Registered Nurse Anesthetists in Diverse Practice Settings
The research results show that CRNAs are able to safely and effectively perform fluoroscopic guided LESIs with complication rates similar to physician rates cited in the literature. 
THE COCHRANE LIBRARY (2014)
Physician Anesthetists Versus Non-Physician Providers of Anesthesia for Surgical Patients
This literature review determined that no definitive statement can be made about the possible superiority of one type of anesthesia care over another. 
HEALTH AFFAIRS (2010)
No Harm Found When Nurse Anesthetists Work Without Supervision by Physicians
Analysis of seven years of Medicare inpatient anesthesia claims reveals that the change in CMS policy allowing states to opt out of the physician supervision requirement for CRNA reimbursement is not associated with increased risks to patients. 
HEALTH SERVICES RESEARCH (2009)
Anesthesia Provider Model, Hospital Resources and Maternal Outcomes
According to the research results, hospitals that use only CRNAs, or a combination of CRNAs and anesthesiologists, do not have systematically poorer maternal outcomes compared with hospitals using anesthesiologist-only models. 
NURSING RESEARCH (2007)
Anesthesia Staffing and Anesthetic Complications During Cesarean Delivery
This research shows that there is no difference in rates of complications between the two types of staffing models: anesthesia provided solely by CRNAs versus solely by anesthesiologists.
AANA JOURNAL (2003)
Surgical Mortality and Type of Anesthesia Provider
The researchers compared mortality rates for anesthesiologists working alone, CRNAs working alone, and anesthesia care teams. Hospitals without anesthesiologists had results similar to hospitals where anesthesiologists provided or directed anesthesia care.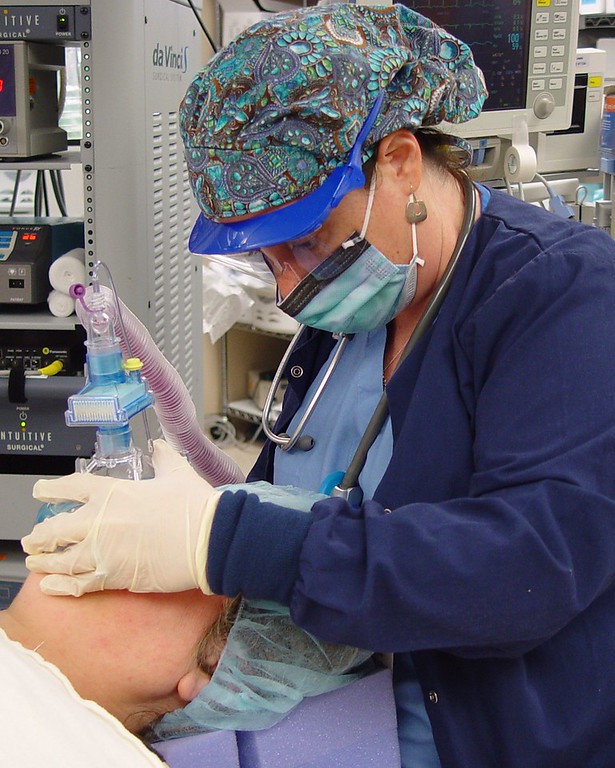 Regulation of CRNAs 
CRNAs are educated and trained to provide anesthesia care using the full range of techniques and medications, and they are legally permitted to do so throughout North Carolina and across the United States.

Legislation and regulations do, however, vary somewhat from state to state; in some parts of the country, providers such as CRNAs are unnecessarily restricted from practicing to the full scope of their education, training, certification and licensure, thereby creating hardships for patients who need access to safe, cost-effective, timely healthcare.

CRNAs care for patients of all ages, in every type of healthcare setting, and for every type of procedure that requires anesthesia in all 50 states.

CRNAs work closely with all members of the patient care team to maintain the patient's comfort and safety. Team members may include surgeons and other physicians, other nurses, and technicians.

CRNAs are highly qualified to handle all types of emergencies that may occur during anesthesia for surgery and other procedures.

40 states and the District of Columbia allow CRNAs to practice without mandated physician supervision; 26 states grant prescriptive authority to CRNAs.

Federal and state laws, including in North Carolina, do not require CRNAs to be supervised by or even work with anesthesiologists.
Support for NC's The SAVE Act
When a public policy issue in the law is vague, the body elected by the people—the legislature—is the appropriate place to go for direction and clarification. North Carolina's statutes currently do not contain a definition of anesthesia practice. Such a definition only exists in the state's Administrative Code and has been the subject of debate for years among lawyers. Therefore, it is appropriate for and important that the legislature clearly define this important area of healthcare practice in state statute.
The anesthesia care sections of the The SAVE Act define CRNA practice, eliminate dentist supervision of CRNAs, grant CRNAs prescriptive authority, and direct the Governor to submit an "opt out" letter to the Centers for Medicare & Medicaid Services (CMS) to allow hospitals and ambulatory surgical centers maximum flexibility to obtain Medicare reimbursement for anesthesia services.
Legislative support for the anesthesia care provisions of The SAVE Act will improve patient access to safe, high-quality, value-directed anesthesia care for all North Carolinians.
A 2021 statewide poll found 74 percent of likely North Carolina voters support CRNA independent practice.
Benefits of more Flexible Practice Laws for CRNAs in NC
Improve Patient Access to Care:
Greater access, especially in rural and medically underserved areas

Enable CRNAs to prescribe/order anesthetics and other drugs they administer to patients

Improve CRNA recruitment and retention for a more robust anesthesia workforce in North Carolina

Retain new nurse anesthetists graduating from the six nurse anesthesia programs in North Carolina, strengthening the state's anesthesia workforce
Decrease Costs:
Managed care plans recognize CRNAs for delivering high-quality anesthesia care at less cost

CRNAs' cost-efficiency helps control escalating healthcare costs
Streamline Care:
Promote Competition:
Allowing CRNAs to practice to the full extent of their education, training, certification, and licensure would promote a competitive marketplace where patients and employers have access to providers of their choice.
CRNA Education and Training
Total education and training:
7-8 ½ years of nursing and anesthesia education and training

More than 9,000 clinical hours
Prior to entering nurse anesthesia program:
Prior to becoming a CRNA:
Graduate with master's or doctorate degree from accredited nurse anesthesia educational program

Pass National Certification Exam
CRNAs embrace life-long learning, maintaining their certification through continuing education.
Learn More about CRNAs
Highly Educated Professionals Providing Safe, Affordable, Accessible Care